Exadata
Since 2013 I did 20+ Engineered Systems deployments throughout UK for retail, finance and insurance companies. Starting with Exadata X3 I did variety of jobs in the area:
Setting up network and software requirements using Oracle Exadata Deployment Assistant (OEDA).
Stacking, racking and powering on of the Exadata system.
Initial deployment using OEDA (applyElasticConfig.sh).
Loading the configuration and software using OEDA (install.sh).
Upgrade from an Eighth rack to Quarter rack - software and hardware.
Upgrade of Quarter rack with new storage cells and compute nodes.
Mix and match storage cells and compute nodes to create new Exadata system.
Massive and complex upgrade of a live system of 2x Exadata X4-8 with another X4-8 rack.
Re-image of storage cells and compute nodes with latest available software.
Upgrade of Exadata systems with latest storage software using rolling and non-rolling approach.
Complex upgrade of swapping 2TB disks to 4TB disks across all storage cells with restore of Oracle Clusterware configuration and restore of all databases.
Replacement of the Cisco admin switch with new Top of the rack switch and re-cabling the admin interfaces of all components.
Stacking and racking Oracle ZFS storage appliance and connecting it to the Exadata infiniband switches.
Here is a map of the 15+ Data Centers in the UK where I have done Exadata work: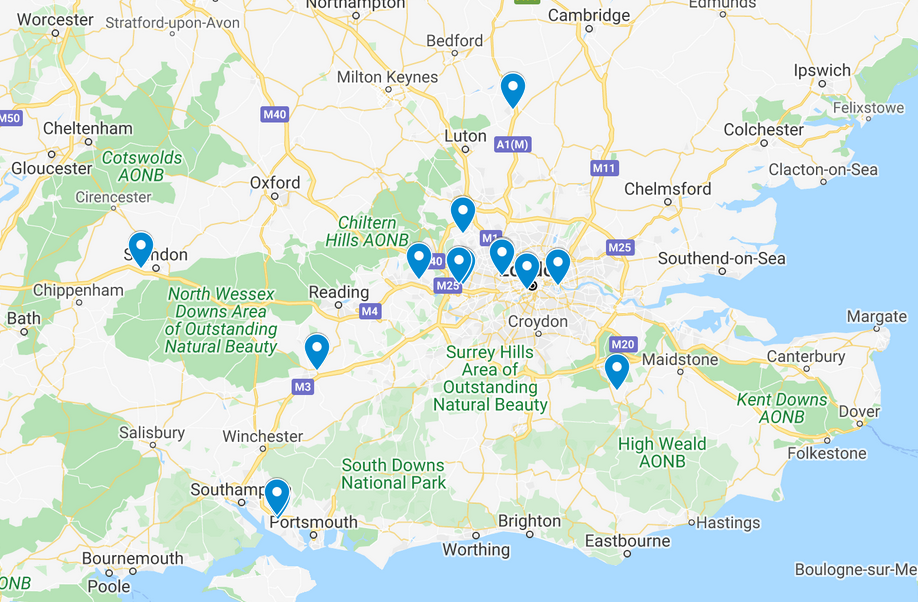 Cloud Experience:
Maintenance of X7 half rack in OCI.
Deployment and extension of X8M in OCI with additional compute nodes and storage cells.
Migration of databases from another tenancy to another through Oracle Object Storage.
I'm also Oracle Exadata certified:
Oracle Exadata Database Machine 2014 Certified Implementation Specialist